I am so excited that you are ready to take on this CHALLENGE with me!!!
This post includes: 
Amazing results from the 21 Day Fix
 Challenge group 101 (full explanation)
The Fix results & info video
The benefits of Shakeology (video)
Step by step sign up instructions to join our group
WHAT IS A CHALLENGE GROUP?
OUR NEXT CHALLENGE GROUP STARTS EVERY 2ND MONDAY OF THE MONTH!
I know… It's May and the thought of getting in a swim shop dressing room…much less actually getting into a bikini has your mind spinning out of control!
I am here to help you GET CONFIDENT and sport that Summer bikini with pride.
How??? By working out for 21 days AT HOME for only 30 MINUTES/ DAY and checking in daily online with an amazing group of ladies who are moms, singles, students and #GIRLBOSSES alike. You will find great community here and will be encouraged daily to make sure you accomplish your goals!
You don't need a personal trainer, a gym membership and more time away from your family to get toned and lose up to 30lbs. in 21 days. You simply need a killer in-home fitness routine, proper nutrition & accountability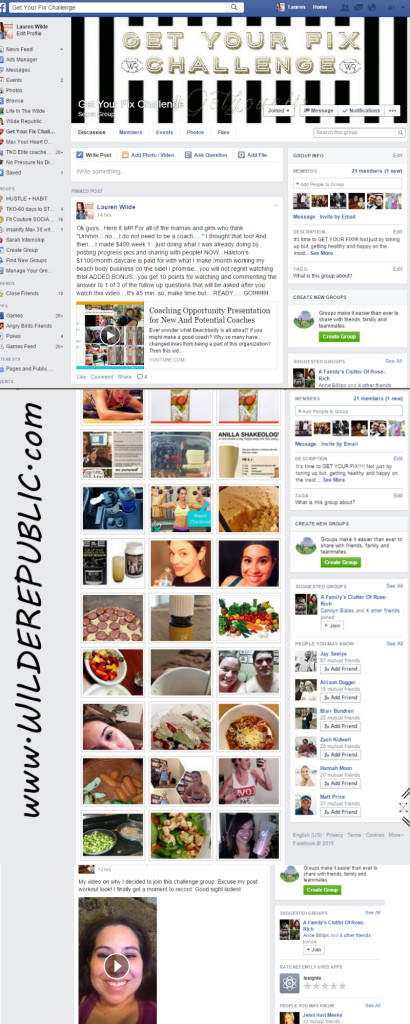 We will have a whole group of ladies doing this with us! I definitely want everyone taking before photos and measurements so you have those so you can see how much you have changed in just 21 days! I'll post a few photos below of some of the people that have completed this 21 day challenge so far..it's nothing short of amazing..i'm ready for those results, and I'm sure you are too J
RESULTS:

Preview of the workout just so you can see what it's all about:

​ALL OF THESE RESULTS WERE ACCOMPLISHED
WHILE DRINKING SHAKEOLOGY EVERYDAY!
IT IS NOT A PROTEIN SHAKE! 
"Ladies, this stuff has allowed me to break through my plateau, eliminated all my bloating
and made me regular and has MAJORLY elevated my energy level!"- Lauren Wilde
About ShakeologyVIDEO: 
​Real Results: 11lbs. in 11 days w/o working out first!


WHAT DO I GET?
The entire package comes with the full workout which is 7 different 30 minute workouts and a complete nutrition guide with 7 color coded portion containers that will help you portion out your food…if it fits you eat it and if it doesn't you save it for later, 1 month of Shakeology with a Shaker cup, which you will be using to replace one meal/snack a day(makes one meal SUPER easy for you) and it's going to have you feeling better and have MORE energy. It was a game changer for me personally in reducing bloating and increasing my energy. For additional nutritional support you will also have access to our 21 day clean eating meal plan and shopping list so that will take out the guess work for you with nutrition. Lots of nutrition support because nutrition and quality ingredients are KEY.
The whole program is discounted to $140 for this month only because of the launch of 21 Day Fix EXTREME!
​SOUNDS AMAZING, HOW DO I SIGN UP?
​If you want to get started today with Shakeology and 21 Day Fix or 21 Day Fix Extreme(Which is called a challenge pack) it is much more cost effective to sign up as a "Discount Coach".  THIS IN NO WAY MAKES YOU A TRUE COACH who hosts challenge groups or works the business! This just enables you to get 25% off all Beachbody products including your monthly shipment of Shakeology! You can cancel the HOME DIRECT shipments of Shakeology AT ANYTIME!(Literally the second you get your 1st shipment)  but, to see true results, you should drink Shakeology every day for 3 months for breakfast or lunch! Being a "discount coach" will save you $15/month.
Signing Up As a Coach
You should see my name towards the top top left & right of page. Click the Big Green "Coach" button.
3.  Then click the big button that says "Yes I want to become a Coach"
4.  Once you are a coach it will ask what challenge pack you would like.
5.  Chose 21 Day Fix or 21 Day Fix Extreme Challenge Pack and also choose what Shakeology option you would like.
6.  Once you are finished please let me know so I can confirm it went through properly.
I JUST WANT TO SIGN UP FOR A WORKOUT PROGRAM:
If you are in NO WAY INTERESTED in trying Shakeology and you JUST WANT TO follow a fitness program and have the accountability of the group and me as your coach, then just simply sign up as a customer!
Signing Up As a Customer
1. Go to http://www.teamwilderepublic.com
    You should see my name towards the top left & right of page.
2. Click the Big Blue "SHOP" button.
3. Chose the challenge pack or program you would like. Check out!!!It's that simple!!!!!!
WHAT IF MY FRIENDS AND FAMILY WANT TO SIGN UP TOO?
As a coach, you will make back 25% of every product that you recommend to a friend or family member. Many people end up getting their Shakeology paid for every month by sharing this goodness with 3 people/month. If you are not a coach, you can still benefit from others signing up. CONTACT ME TO DISCUSS WHEN THIS HAPPENS!!!
GET READY TO MAKE A CHANGE, WORK HARD AND FOLLOW THROUGH!
Also, I really would LOVE to know more about WHY you want to join this group? Also, what are some of your personal fitness goals? Do you think you are more at the option 1 or the option 2 level?
Also, how is your nutrition on a scale from 1-10? And do you struggle with this at all? Struggle with cravings or anything?
Just want to know how I can help you!!! Cannot wait to get started!!!!
Live Fit.  Live Well. Live Wilde. ~ Lauren