Happy Cinco De Mayo! Man I used to love this holiday! Now it is just another holiday that tempts me with queso and tequila! 🙂 Here is a way to celebrate with out the MUCHO calories!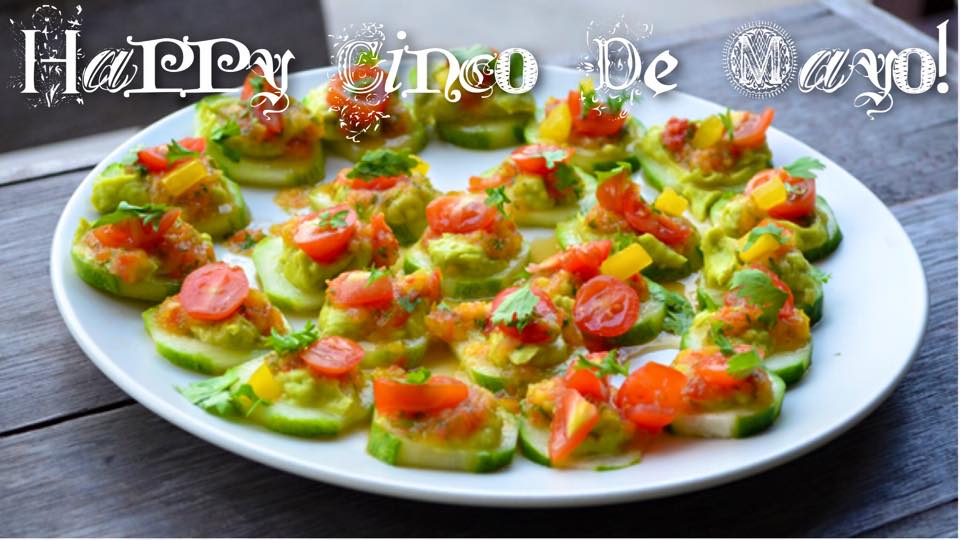 Serving Size:
About 50 nachos (serves 2 to 4)
Ingredients:
4 plum tomatoes (⅔ pound)
1 small yellow or orange bell pepper
5 grams of cilantro (loosely packed handful)
5 grams of parsley (loosely packed handful)
2 cucumbers or 1 English cucumber, which contain fewer seeds
1 avocado
Juice of 1 lemon
Juice of 1 lime
Directions
Halve and seed the tomatoes and bell pepper.
Combine the tomatoes and bell pepper with the cilantro, parsley and juice from the lime in a food processor, operating on pulse until finely or coarsely chopped, whichever is your preference. Cover and let the salsa's flavors mix in a refrigerator for 30 minutes.
Cut the avocado down the center and scoop out the "meal." Combine with the juice of the lemon in a blender, adding a few lettuce leaves or water to thin the "cheese," if necessary. I highly recommend using a high-powered blender such as a Vitamix blender, outfitted with variable speed and a tamper, or wand, to push food into its blade.
Cut the cucumbers into ¼-inch slices for use as chips.
Spread the avocado "cheese" on each chip, topping with salsa.
Share and Enjoy!